BME Aluminum Rods: Unparalleled Success
Over the last 36 years, the success of the Bill Miller Engineering Forged Aluminum Connecting Rod in drag racing is unparalleled. The BME Rod is unquestionably the number one choice of professional drag racers.
In 2010, using the BME Rod's performance and reliability, John Force drove his Castrol High Mileage Ford Mustang to six event wins and the NHRA Funny Car title. Force, at 61, is the oldest person to win an NHRA Championship and the most successful driver in NHRA history. Oh yeah–he used BME Rods to win the other fourteen of his F/C titles, too. Force has always used Bill Miller Forged Aluminum Connecting Rods in his own car and in the other two he fields in NHRA Full Throttle Drag Racing, the Castrol GTX Mustang his daughter, Ashley Force-Hood drove to third in the 2010 F/C championship and the Auto Club Mustang Robert Hight drove to the 2009 F/C title.
The final round at the 2010 NHRA Finals at Pomona pitted Jeff Arend in the DHL Toyota Solara against John Force in the AutoClub Ford Mustang. Arend left on Force by two thousandths but Force's Mustang was the better car and by the 330 mark, was ahead by .005 and never looked back John Force won the round, the event and Championship for the unprecidented 15th time. Force has dominated nitro funny car racing for 25 years and has used BME Forged Aluminum Connecting Rods the whole time. Image: Autoimagery.
The quickest and fastest drag racing car in the world, the U.S. Army/Don Schumacher Racing, Top Fuel Dragster, uses BME Rods. The Army Car's driver, Tony Schumacher, won six events in 2010 and placed second in the Top Fuel points. If that's not enough, he's a seven-time NHRA Top Fuel Champion and holds not one, but both Top Fuel National Records–elapsed time and top speed.

Perennial NHRA Top Fuel Champ, Tony Schumacher, won the Championship in 2009. Driving the U.S. Army Dragster, Schumacher won five events and the title, his sixth consecutive and seventh total. Tony, also, holds both ends of the T/F National Record: 3.771-sec. at 324.98- mph. BME Rods helped him do all that.
Image: Auto Imagery.

Cruz Pedregon, the 2008 NHRA Funny Car Champion, raced the Bill Miller Engineering equipped, Advance Auto Parts Toyota Solara to three National Event wins and the title that year. The Funny car veteran is also the 1992 FC title-holder and a long-time BME customer.
Image: Auto Imagery
The BME Rod dominated NHRA's nitro classes in 2010 with 90% of the top 10 in Top Fuel and Funny Car using them. In T/F, besides Tony Schumacher; Antron Brown, Cory McClenathan, Brandon Bernstein, Morgan Lucas, Shawn Langdon, Doug Kalitta, Steve Torrence and Dave Grubnic all use BME Rods. In F/C, Matt Hagan (2010 runner-up), Ron Capps, Ashley Force-Hood (top speed National Record holder, third in points for '10 and second for '09), Jack Beckman, Del Worsham, Bob Tasca III and Tim Wilkerson all had them in their engines.
Both Pedregon brothers used BME Rods to win Funny Car championships, too–Cruz in '92 and '08 and Tony in '03 and '07. In fact, every NHRA Funny Car Champion since 1990, has had a set of BME Aluminum Rods in his engine
It's one thing to win some races and a season title or two, but it's a far greater achievement to sustain a win streak over decades. BME's famed aluminum connecting rod has been a performance and reliability benchmark in drag racing for 36 years. Since 1974, 45 NHRA and IHRA fuel dragster and funny car Champions have used them. For the last five years, at least 70% of the NHRA Top Fuel and Funny Car points finalists have used BME Rods. John Force Racing has been a Bill Miller Engineering Rod customer for 25 years and has won 17 Funny Car Championships with them. Tony Schumacher has won most of his NHRA T/F titles with BME Rods. Clay Millican won all six of his IHRA Top Fuel titles with them. The '05 NHRA Funny Car Champion, Gary Scelzi, is one of only four drivers in 21 years to beat John Force for the F/C title and, in his long career, is the only NHRA drag racer to have won all four blown-fuel and blown-alcohol championships. BME Rods helped him do it.
One of the more successful drivers in Top Fuel is Cory MacClenethan. One reason he does well in the Fram Dragster is the BME Rods in its engine. Cory Mac used BME to finish fourth in Top Fuel for 2009. Image: Don Schumacher Racing.

Obviously, Bill Miller runs his own parts in the BME/Okuma/Red Line Oil Top Fuel car he fields for Troy Buff. In three of the last four seasons, the BME Team scored the most Championship points of any NHRA Top Fuel team running a partial schedule.

There's even a BME revolution in the NHRA A/Fuel Dragster class. A/FDs are unblown on nitro but allowed to run the Full Throttle series as Top Alcohol Dragsters. Five-time TAD Champion (2006-2010) and A/FD National Record Holder, Bill Reichert, uses BME Rods.

Other connecting rod makers may brag about a few racers who run their stuff, but look at the facts...there's little question that BME Forged Aluminum Connecting Rods totally dominate drag racing.
The Bill Miller Engineering Rods available for nitro-burning, supercharged engines inspired BME to design and price rods for use in other drag race applications, such as: Top Alcohol Dragster and Funny Car, Pro Stock, Pro Mod and Comp Eliminator. There are even BME Rods for very high performance street engines.
Six reasons drag racers choose BME Rods:

1) Bill Miller Engineering Forged Aluminum Connecting Rods are made from a unique variety of aluminum and are the only rods forged from aluminum extrusions rather than cut out of ordinary flat stock.

2) BME Rods outperform and outlast all other aluminum connecting rods.

3) In 36 years of manufacturing aluminum connecting rods, Bill Miller Engineering has earned for a reputation for innovative technology, high quality, continuous improvement and outstanding service.


4) BME puts overriding emphasis on quality through testing, inspection and manufacturing process controls.

5) Bill Miller has raced a Top Fuel car since the early 1980s. There is no better way to find out what it takes to make the best drag race connecting rod in the world than to regularly test it in your own Top Fueler.

6) BME Rods are MADE IN AMERICA with the finest materials and the best workmanship of any racing connecting rod available today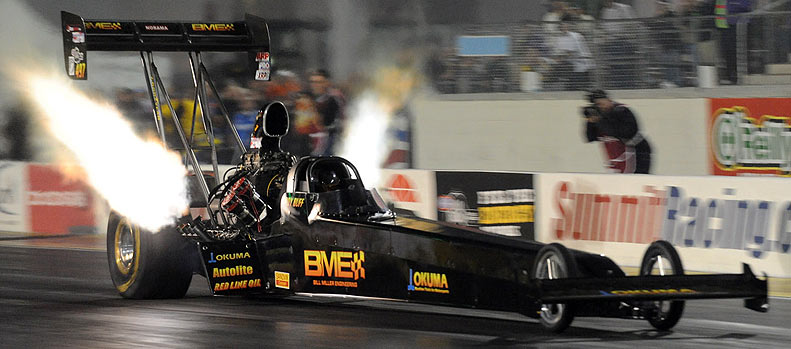 Bill Miller Engineering is the only manufacturer of aluminum connecting rods which develops and tests its products in its own Top Fuel Dragster. Shown is the BME/Okuma/Red Line Oil fueler, with Troy Buff at the controls, at Las Vegas in October of 2010. Image: Autoimagery.com

CLICK HERE for Rod Overstock Sale
CLICK HERE To Download Connecting Rod Order Form

Miracle Metal

From 1975 to 1995, BME Forged Aluminum Connecting Rods were made of 7075 aluminum, heat-treated to the T6 specification. In 1996, after a comprehensive research and development program, Bill Miller Engineering introduced rods made of a new, advanced, aluminum alloy. Alcoa originally developed this revolutionary material for the Boeing Company to use for wing spars and other high-strength, lightweight structures in military and commercial aircraft.

For a given part, compared to 7075-T6, this newer type of aluminum provides an average, 15% increase in tensile and yield strength along with equal or better elongation and other mechanical qualities with, most importantly–no increase in weight. In short, with Bill Miller Engineering rods, racers get longer fatigue life for their money, but no extra weight.


The Truth about Billets

The Aluminum Association, a trade organization of primary aluminum producers which sets industry standards, defines a "billet" as a "hot-worked, semifinished product suitable for subsequent working." Other manufacturers sell "billet" aluminum connecting rods. Unfortunately, BME's competitors don't disclose that the billets they use in making their rods are cut out of thick pieces of flat stock–ordinary aluminum plates.

In this era of lightweight engine components, exceptional fatigue life comes only from superior materials, outstanding design and high-tech manufacturing. Bill Miller Engineering has combined the outstanding metallurgy in its advanced aluminum alloy with the advantages of the die-forging process to produce a forged aluminum connecting rod which beats the rods cut out of plates under real world racing conditions. Proof of that is vast majority of NHRA and IHRA Top Fuel and Funny Car racers who use BME Rods and their 44 NHRA and IHRA championships. No other aluminum connecting rod even comes close to that record.

The first step in making a BME Forged Aluminum Rod, forging the Rod's basic structure from a chunk of aerospace-quality aluminum.

A half-a-dozen raw BME forgings. They'll sit for a while then get moved to the machining facility. Don't touch! They're still hot.
The premium aluminum BME uses is not available in the lesser-quality, flat-stock used to manufacture other aluminum rods. BME's raw material is aluminum bar stock which is, first, subjected to a minimum, 6:1 extrusion ratio. In fact, this extruded raw material is, indeed, a billet, because it's "a semifinished, hot-worked aluminum product" but, while a billet is the final form of the competition's rods; it's only the start of a Bill Miller Engineering Rod.


Forged for Ultimate Strength

Following extrusion, BME's die-forging process shapes the aluminum and compresses its grain structure by heating it to 700°F then applying pressure of 2200 tons. Compared to rods which are cut out of ordinary flat stock, Bill Miller Engineering's forging process: 1) enhances grain flow and increases grain density, 2) forces the grain of the extrusion into the connecting rod shape and, more importantly, aligns that part of the grain which makes up the rod's tapered beam with the direction of highest stress the rod will sustain and, 3) forces the grain around the rod bearing bore, creating a "hoop stress" phenomenon which provides maximum strength for the limited cross-section available at the rod's big end.

Today's demanding quality and productivity standards mean there's a lot of automation in the making of a BME Aluminum Rod. That said, to make the best aluminum rod in the world, still requires some of the manufacturing process to be done by hand by experienced craftsmen with sharp eyes and a fine sense of touch. The big and small ends of each BME rod are finished by hand on a Sunnen Rod Hone. Image: BME Ltd.
During Alcoa's early-1990s research into the strength of connecting rod materials which resulted in BME's switch to a different type of aluminum, fatigue life studies proved failures are caused chiefly by stress resulting from severed grains and improper gain direction. With a connecting rod machined from a plate, any machining severs grain ends. If this machining is done to critical sections of the rod, such as the beam or the big end, the severed grain ends weaken the rod. If remaining uncut grains are not aligned in the proper direction, the rod's strength will be further compromised.
A BME Rod's taper, because it comes from the forging process rather than machining, does not expose grain ends. In a conventional aluminum rod cut from flat-stock, grain length is cut by the rod bearing bore, again, exposing the grain ends. In contrast, the forging process used by Bill Miller Engineering forces the grain around that bore.
Better grain flow, higher density, grain aligned with the direction of greatest stress, tapering which does not cut the grain and big end grain formed around the rod bearing bore are just a few reasons for a BME Rod's exceptionally long fatigue life.
BME Rods are available in a variety of styles to fit the following engines: Chrysler 426 Hemi, 440 Wedge and 340 A-Block, Small- and Big-Block Chevrolets and Big-Block Pontiac. Also, some Ford rods are available by special order. For more information, see our rod prices page or call BME.
The Only Streetable Aluminum Rod

Urban legends abound in the gearhead community. One is: aluminum connecting rods don't work in street engines. Prior to the mid-'70s, that might have been true, however, introduction of the Bill Miller Engineering Forged Aluminum Connecting Rod in 1975 provided an exception to that myth.

The BME Rod has great durability in high-end, high-power, street/strip or hot street engines because it is die-forged, rather than cut out of a plate. Bill Miller Engineering's unique, aluminum alloy further enhances fatigue strength such that the durability of BME Rod rivals that of many forged steel rods and exceeds that of a few.

About 20 years ago, a few resourceful engine builders, led by H-O Racing's, Ken Crocie, began using BME Rods in very-high-performance street engines. Crocie, a racing and street/strip Pontiac V8 specialist, faced with a shortage of acceptable steel rods for Pontiacs, began to use BME Aluminum Rods. While a few other engine builders followed Crocie's lead, admittedly, use of the Bill MIller Engineering Rod in street engines has not been widespread, but that's only because of its higher cost and the stubborn belief that any aluminum rod is unsuitable for street use.
"In a street application, using the aluminum rod is a no brainer," BME President, Bill Miller, recently said in an interview with an automotive magazine. "I don't know how the myth that aluminum rods can't be used on the street got started, but I'll guess that, back in the 60s and early-70s, they weren't making them using the process we're using, today. With the material we've got and they way we manufacture the connecting rods, they'll live a couple hundred thousand miles on the street because a street application is, for the most part, low load. Our basic Aluminum Rod is made for 10,000 rpm and 800-hp. The design criteria for the connecting rod is way overkill for what it's going see on the street. We been running aluminum rods on the street for 20 years."
Why build a street engine with BME Rods? One reason is the "cool factor." Bill Miller Engineering Rods are unique, high-end racing parts and there always will be people who spend extra money to have the same rods in their engines as Tony Schumacher or John Force puts in theirs. More importantly, there are practical reasons for using BME Rods—the same reasons racers use them: less reciprocating and rotating mass due to their comparative lightness. That allows the engine to accelerate quicker and make more power as it does so. Lighter rods also improve throttle response and allow the engine to run reliably at a higher rpm than it could with steel rods.
| | |
| --- | --- |
| | You do a couple of things differently when setting-up a street engine for BME Rods. Minimum bearing clearance at room temperature should be .002-.0025-in. Wrist pin clearance should be .0006-.0008-in. Rod side clearance should be .020-in. The engine's oiling system needs to be appropriate for a racing application which typically runs larger rod bearing clearances once the oil reaches operating temperature. The oiling system must be configured to provide 10 psi, hot oil pressure for every 1000 rpm in the engine's rpm range. Under no circumstances should 5W30 engine oil be used. The minimum acceptable oil is a premium, 10W30 synthetic and Bill Miller Engineering recommends Red Line Oil. If you insist on petroleum-based oil, minimum acceptable is a 20W50. Engines with BME Aluminum Rods must not be run at high load or high rpm until oil temperature reaches at least 125 deg. F. Lastly, while Red Line oil lubricates reliably at oil temperatures up to 300 deg. F, the optimum oil temperature range for an engine using BME Rods and Red Line Oil is 200-250 deg. F. |
Standard BME Forged Aluminum Connecting Rods for most production Chevrolet, Chrysler and Pontiac V8s are reliable replacements for steel rods in engines of up to 800 horsepower. Aluminum Rods for some Ford V8s of similar power output are available on special order. A Big-Block Chevrolet style, Pro Stock rod, good to 1200-hp, is, also, available. If the application is a Chrysler 426 Hemi or big-block "wedge", BME's blown-alcohol rods can be used at levels well over 2000-hp and have outstanding reliability/durability.
And What About Bolts?
In keeping with BME's pursuit of quality, Bill Miller installs nothing but the finest cap screws in his Connecting Rods. These fasteners are manufactured to BME's specifications by fastener manufacturer, Automotive Racing Products (ARP).
| | |
| --- | --- |
| BME/ARP cap screws come in two varieties. The fasteners in most BME Rods are made of 8740 chromium-molybdenum (chrome-moly) steel, a quenched and tempered steel with a tensile strength of 180,000 to 210,000 psi. The cap screws used in rods Bill Miller sells for supercharged drag race applications are made of a special hybrid alloy called "ARP2000" which has a tensile strength of 215,000-220,000 psi. BME's fasteners made of this ARP-exclusive material receive a special, proprietary heat-treating process designed by BME specifically for cap screws used in blown-fuel drag race engines. | ARP 2000 steel, rolled threads and a special, BME-designed heat-treating process makes the bolts in a BME Aluminum Rod the strongest in the industry. |
Both types of BME/ARP fasteners are CNC-machined. They are heat-treated in vertical racks which ensures complete, 360-deg. penetration. These cap screws have rolled threads but the thread rolling is done after heat-treating which provides up to 10-times more fatigue life than cap screws having threads rolled before heat-treating. Needless to say, when you buy a BME Aluminum Rod, the last thing you need to worry about are its fasteners.
BME Rods: The finest money can buy.
Since 1975, Bill Miller Engineering has been dedicated to designing, developing, and manufacturing the finest aluminum connecting rods in the industry. Our commitment to the racer is total. We conduct continuous research and development to increase the performance of our Rods in racing applications. We strive to produce the lightest and strongest aluminum rods on the market. Rest assured, when you buy BME Forged Aluminum Connecting Rods; you get the best rods modern technology can produce.

Bill Miller stands behind his company's rods, both literally and figuratively. The BME Forged Aluminum Connecting Rod was Bill Miller's first product and remains the core of his business.

One of the best things about BME products is the hands-on involvement of Company President, Bill Miller, shown here at left, talking with one of the BME Team members. In 1975, Bill began BME with the Forged Aluminum Rod as its first product and was the company's only employee. Today, 30 years later, Miller is still closely involved with the manufacturing and quality control processes and deals with many customers personally