Born in 1963, Troy Buff is a life-long drag racer. In the mid-'60s, as a kid growing up in southeast Texas, anytime someone asked, "What do you want to be when you grow up?" Troy answered confidently, " A Top Fuel driver!"
Image: BME Ltd.

Troy's Dad, NHRA Hall of Famer, Willard Buff, started racing in the early 1960s with a classic, '40 Willys Gas Coupe. Later, he ran a dragster, injected-on-nitro, against some of the legends of the sport: Dale Armstrong, Ken Veney and Brad Anderson, to name a few. Towards the end of his career, Buff the elder, raced a Top Alcohol Dragster called "Golddigger".

Willard believed the best drivers could not only drive, but, also, understood how racecars worked. Troy was five years old when his Dad began teaching him the basics of racing. Troy likes to show people a picture taken back then of him and his Dad rebuilding a race car transmission. This early involvement gave Troy a passion for racing which remains today.
In junior high, Troy wanted into competitive sports and, typical of Texans of that age, he picked football. It wasn't long before coaches said his small size begged serious injury and suggested he pursue another sport, so, in 1975 at age 12, Troy set his sights on motocross.
On a dirt bike, he was a natural. A fierce competitor riding well-prepared equipment, it was no surprise that he won many races. It was, also, no surprise that, eventually, he'd take a fall. Unfortunately, when he did in 1981, it was a horrible accident. His right leg was seriously fractured and almost had be amputated. While hospitalized, Willard Buff suggested that, after Troy recovered, he take over driving the family's Top Alcohol car. Eventually, a pin was installed in his leg. That and lot of dental work and Troy was ready to begin a drag racing career.
Only problem? The racecar was in pieces. Willard told Troy he must put it together and get it running before he could race it. Troy's dream was starting to come true, so he quickly agreed. While his folks were away on vacation, Troy applied the knowledge he'd acquired working alongside his Dad all those years and put the car back together. When Dad returned, Troy led him to the garage and showed him the car.
"It is ready to start?" Willard asked.
"Yep."
"Ok. Light the motor."
Surprised his father wasn't going to check his work, Troy rolled the car out of the shop and fired it.
On the BME Top Fuel Team, everyone works on the car. Troy Buff has responsibility for the front of the car and the supercharger. In this short video, Troy talks about working on the race car.
The next weekend, 18-year old Troy Buff earned his NHRA Top Alcohol Dragster license. Signing him off, was 1981 NHRA Funny Car World Champion, Raymond Beadle and 1981 IHRA champion, Billy Meyer.
Image: BME Ltd.

Troy's first competitive passes were impressive, coming close to the TAD record. In 1982, he was nominated NHRA Division 4 Rookie of the Year. He was nominated for Div 4. Driver of the Year in every season he ran the blown-alcohol car and won that title in 1998 and 2000. His quickest TAD pass, a 5.40, came in 1999 which, as Troy says, "...was flying back then." Troy won numerous NHRA Divisional and National Championships throughout his Top Alcohol career. Asked about his best TAD memories, Troy cites winning the Gatornationals in '99 and twice winning the AutoZone Nationals at Memphis.

At the end of 2003, Troy retired the Top Alcohol car and began looking for a Top Fuel ride. His search ended two years later with a call from a former sponsor. Four years before, Troy had a chance meeting with Tim and Renee Coghlan, owners of KK Trucking, Inc. in Carthage, Mississippi. Tim told Troy that his dream was to, someday, own a Top Fuel car. Troy told Tim that his dream was, also, to, someday, drive a Top Fuel car. Following that meeting, the Coghlan's sponsored Troy's Top Alcohol car for a time.

Troy Buff came to Bill Miller's attention in early 2005. In an act of persistence, Buff cold-called Miller asking to drive his car. Bill told him to go get a T/F license and gain a little experience and then they'd "talk."
Image: BME Ltd.

Fall of 2005. Troy's phone rings. Tim Coghlan was ready to start his Top Fuel Team and wanted Troy to drive. "Someday" had arrived. In October, Troy inked a deal with the Coghlans.

True to form, during licensing, Troy was impressive. While licensing requires an initial, half-track pass, he was more than ready for the real deal. Later in the day, Troy staged the new, Coghlan Motorsports Top Fueler for his first full pass, then went 4.613/316.30. Troy came back for his second run going 4.642/325.30. Licensing in only two and a half passes was amazing by itself, but after getting signed-off by Top Fuel Champions Larry Dixon and Scott Kalitta, Troy learned the two passes were the quickest and fastest, quarter-mile T/F license runs in NHRA history. They remain that, today.

In June of '06, the Coghlan Motorsports debuted at the NHRA O'Reilly Midwest Nationals. In his first round of eliminations, Troy beat the number one qualifier and winner of the previous week's National Event. Buff ran five other NHRA events Coghlans that year. Ironically, at the last race in '06 at Pomona, Troy Buff and the Coghlan team were bumped out of the 16-car field by none other than the BME Dragster.
In 2007, Bill Miller was making a driver change and, remembering Buff's persistence, offered him the BME ride. A dragster gearhead since childhood and not only former driver for the Coghlans, but their engine builder, too; Buff was a perfect addition to the BME Top Fuel team where everyone, even the driver, works on the car. "My job," Troy says, "is superchargers, race car prep from the roll cage forward and I do all the fuel mixing. I am excited about driving for the best independent team in Top Fuel."
The fans love "smilin'" Troy Buff. Here he greets his constituency at the NHRA Spring Nationals at Houston in 2016. Image: BME Ltd.

Troy brought another valuable characteristic to the BME/Red Line Oil Top Fuel Team: his small size. That might seem trivial to some, but the rule of thumb in T/F is: every 15 pounds out of the car is a hundredth off the e.t. In a class were qualifying positions and round wins can depend on a thousandth of a second, 20 pounds less in the driver seat is huge.

While Willard Buff no longer drives race cars, Troy tells us, his Dad, "....is my number one fan and mentor. He keeps me in check and motivated. During the week, we work together at our business, Competition Automotive Machine."

In a decade driving for Bill Miller, Buff has done the BME Team well. In 2008 and 2010, BME had the best points finish of Top Fuel Teams running partial schedules. Troy has become known for his starting line expertise. Many of his round wins have come from his quick reaction times.
In 2016, at the Spring Las Vegas event, Troy Buff turned-in his best performance ever as BME's driver. He qualified 12th then drove the BME Dragster around Richie Crampton, Brittany Force and J.R. Todd and into the final round. It is rare for any partial-schedule Top Fuel team to go to the last round. In the final, Buff left on Antron Brown by .041-sec. but lost by .0346-sec. after dropping a cylinder. Troy was named "Driver of the Race" for his runner-up finish and all his reaction times .069 or better. His .012 light in the final was the quickest reaction time of the season at the time.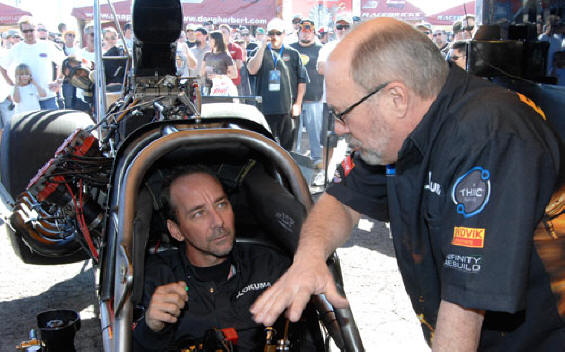 The key relationship for a Top Fuel Team is that between driver and owner. The BME Team's success depends, in part, on the chemistry and communication between Buff and Car Owner, Bill Miller (right). Image: BME Ltd.
Troy has earned the respect of his fellow competitors for his driving talent, tuning skills and eagerness to lend a hand to other racers. His beaming smile and friendly personality has made him a crowd pleaser and a favorite to racing fans of all ages.
Besides drag racing, Troy's other hobby is quite unique--he builds high-end, vacuum tube, home audio equipment and the speaker systems to go with it. Troy Buff resides in Spring, Texas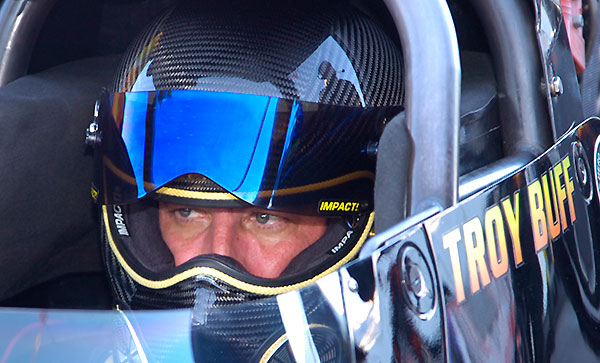 Image: BME Ltd.